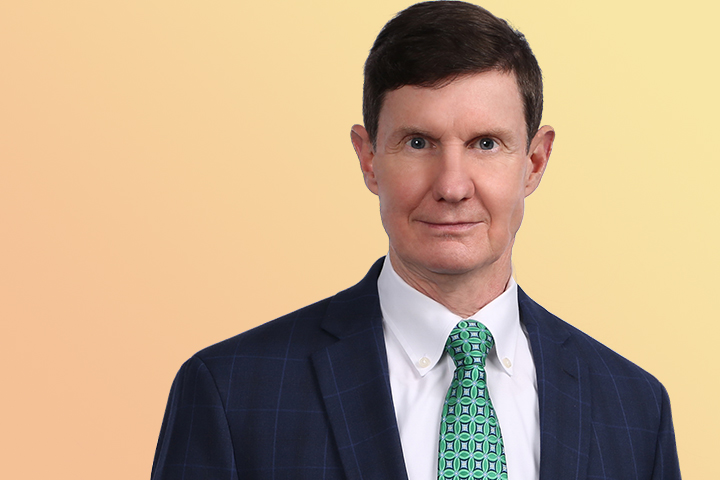 Christopher G. Caldwell
[email protected] | 213.712.8079
Chris has built an extensive practice encompassing all aspects of criminal and civil litigation. Splitting his time between serving as a plaintiffs' lawyer and a defense lawyer, Chris focuses on cases in the entertainment industry, intellectual property, securities, real estate, employment, professional liability, and white collar crimes. Prior to forming Caldwell LLP, Chris co-founded Los Angeles litigation boutique Caldwell Leslie & Proctor, and later served as the Los Angeles Managing Partner for Boies Schiller Flexner LLP.
An experienced negotiator and trial lawyer, Chris is known for his ability to obtain pretrial rulings dismissing claims brought against his clients, and has also accumulated an extraordinary record of victories in both trials and arbitral proceedings. He repeatedly has been hired as trial counsel shortly before the trials began, and has shown his ability to quickly master the facts and achieve favorable results.
Chris was appointed by the United States Court of Appeals for the Ninth Circuit as Special Prosecutor to represent the United States in the appeal of criminal contempt conviction of former Maricopa County Sheriff Joseph Arpaio. In that role, Chris successfully resisted Sheriff Arpaio's effort to have his conviction vacated following a Presidential pardon.
Chris has advised major media companies, movie studios, and the Motion Picture Association of America, among others. He also regularly represents Fortune 500 companies in high-stakes securities class actions, SEC enforcement proceedings, criminal investigations, and employment disputes. As a "lawyer's lawyer," he also is regularly retained by national law firms for representation in malpractice cases.
Chris has been inducted as a Fellow in the American College of Trial Lawyers and is recognized as a local litigation star by Benchmark Litigation and as one of Lawdragon's 500 Leading Lawyers.
REPRESENTATIVE MATTERS
Defended the former president of America's largest home mortgage lender in numerous lawsuits and investigations that followed the subprime mortgage crisis. This representation required negotiating the terms of the client's departure from the company, coordinating the defense of more than twenty lawsuits filed in multiple jurisdictions, and successfully protecting the client from follow-on SEC and criminal investigations of other officers at the company.
Hired three weeks before trial to represent Old Navy in a trademark case where the plaintiff sought more than $1 billion. After a two-week trial, the jury returned a verdict awarding the plaintiff no damages.
Successfully represented the manager of a billion dollar portfolio of affordable housing projects in cases throughout the country involving complex tax issues, partnership duties and contractual interpretation. The cases resulted in precedent-setting rulings involving low-income housing tax credits and enabled the client's investors to recover many millions of dollars.
Represented the six major motion picture studios in many lawsuits brought against the world's leading computer-chip manufacturers. In the first lawsuit, Chris successfully obtained a preliminary injunction prohibiting one of the chip manufacturers from selling chips that allowed copying of the studios' encrypted DVDs. That result prompted the settlement of all subsequent lawsuits on favorable terms, including permanent injunctive relief against each of the defendants and recovery of legal fees.
Represented a large Indonesian media company against a U.S.-based aerospace company in an international arbitration brought under the Rules of the United Nations Commission on International Trade Law. The $160-million claim sought to rescind the sale of a defective communications satellite. The case was resolved on favorable terms shortly before the arbitration hearing was scheduled to commence.
Represented a group of former senior executives in a confidential arbitration against their former employer, which was found to have wrongfully withheld tens of millions of dollars in partnership distributions owed to the executives as part of their compensation package. After a three-week hearing, the three-member arbitration panel found that the employer had fiduciary breached duties owed to its former executives, ordered an accounting at the employer's expense to determine the amounts owed, and awarded Chris's clients their attorney's fees.
Represented defrauded investors in a fraud and RICO action against the financiers, attorneys, and promoters of a failed residential housing development. After pretrial settlements with most of the defendants, Chris tried the case to a multimillion-dollar verdict against one of California's largest banks. It then settled on favorable terms, resulting in complete recovery for the sixty-two plaintiffs.
Successfully defended a real estate property lease case on behalf of Gap Inc. The case pitted our client against one of the wealthiest commercial landholders in the U.S. After two weeks of pretrial evidentiary hearings, the trial court rejected almost all of the claimed damages, and the plaintiff capitulated.
Represented hundreds of defrauded investors of self-proclaimed investment guru, Reed Slatkin, against the banks that handled Mr. Slatkin's accounts. The federal class action settled for $26.5 million, resulting in almost complete recovery for the class members who had accounts at the banks, and partial recovery for the other victims of Slatkin's Ponzi scheme.
When three members of a Los Angeles law firm left to join new firms, Chris filed an arbitration to recover partnership funds wrongfully withheld from the departing partners. After a two-week hearing, the arbitrator awarded the client exactly the amount of damages presented by Chris's expert.
Defended the vice president of an aerospace firm who was charged with defense-contracting fraud. After five weeks of trial in San Antonio, Texas, the court dismissed all charges against his client at the close of the prosecution case.
Retained repeatedly by one of California's largest law firms to defend malpractice claims. Many of these cases have been resolved in the firm's favor on summary judgment.
Successfully represented major entertainment company in age discrimination case brought by a senior executive who was terminated as part of a corporate restructuring. Case was resolved in client's favor on summary judgment, which was subsequently affirmed on appeal. Also successfully defeated follow-on lawsuit arising from plaintiff's unsuccessful effort to enforce inchoate settlement agreement involving original claim.
Represented a sitting member of the federal judiciary in a lawsuit against the Administrative Office of United States Courts. The case resulted in an important decision by the United States Court of Appeals for the Ninth Circuit affirming fundamental principles of judicial independence.
EDUCATION
Harvard Law School, J.D., cum laude; Board of Student Advisers; Teaching Assistant, Federal Litigation and Alternative Dispute Resolution, 1982
University of Kansas, B.A., summa cum laude; Summerfield Scholar and New York City Urban Fellowship, 1979
ADMISSIONS
State Bar of California
U.S. District Court: Central District of California
U.S. District Court: Eastern District of California
U.S. District Court: Northern District of California
U.S. District Court: Southern District of California
U.S. District Court: Western District of Texas
U.S. Court of Appeals: First Circuit
U.S. Court of Appeals: Second Circuit
U.S. Court of Appeals: Fifth Circuit
U.S. Court of Appeals: Ninth Circuit
U.S. Court of Appeals: Tenth Circuit
U.S. Supreme Court
AWARDS AND ASSOCIATIONS
Fellow, American College of Trial Lawyers
Law Firm Leader of the Year, Los Angeles Business Journal (2016)
Chambers USA leading lawyer in General Commercial Litigation and Media & Entertainment Litigation
Litigation Star, Benchmark Litigation
Lawdragon 500 Leading Lawyers (2018-present)
Best Lawyers in America (2015-present)
Southern California Super Lawyers (2005-present)
Member, Board of Trustees, Whittier College (2012-2021)
Member, Board of Advisors, David Bohnett Foundation (2000– present)
Vestry Member and Finance Chair, All Saints Church, Pasadena (2014–2019)
Co-Chair, Board of Directors, Family Equality Council (1999– 2004)
GOVERNMENT SERVICE
Trial Attorney with the U.S. Department of Justice, Criminal Division, Public Integrity Section (1983–1986)
CLERKSHIPS
Hon. A. Wallace Tashima, U.S. District Court: Central District of California